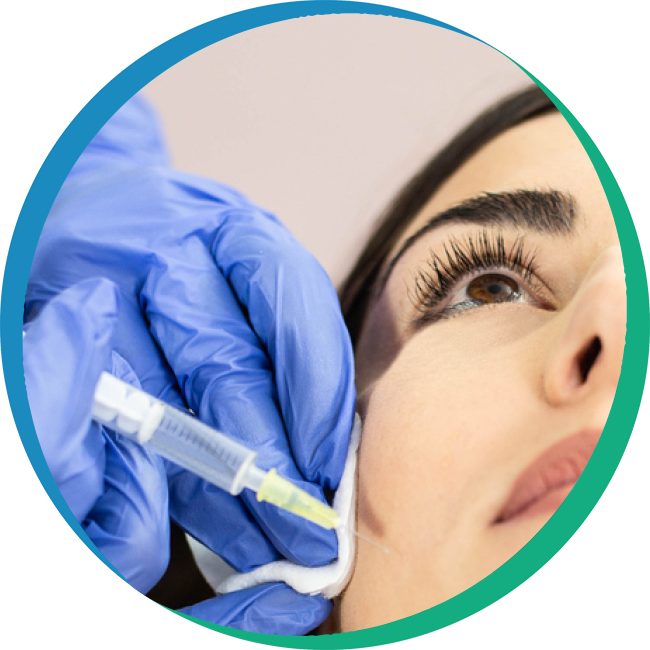 Regenerative Dental Botox
Our muscles contract and form folds or creases in the skin when we make some facial expressions. These creases are called dynamic wrinkles. Our skin loses elasticity as we age, leading to deeper and pronounced dynamic lines around the eyes, cheeks, forehead, and lips. Although wrinkles are normal, they can create an aged or tired appearance, and hence, many people wish to address them. 
At Dr. Nick's White & Healthy Dentistry, Dr. Nicholas M. Kavouklis utilizes his specialized training in Botox applications to target the muscles around the face, mouth, and neck to restore the patients' facial aesthetics and improve the appearance of their smile and rest of the face.
Botox Treatment
When a neuromodulator like Botox is injected into patients' facial muscles, it blocks the signals from the nerves to muscles, thus preventing the contraction of the injected muscle. This leads to the softening and relaxation of the wrinkles, thus creating the appearance of smoother skin. 
Botox Cosmetic Treatments can treat concerns like:
Crow's feet (smile lines around the eyes)
Glabellar lines (frown lines in between the eyebrows)
Smoker's lines
Chin dimples
Neckbands
Bunny lines (on the nose)
Botox Cosmetic Treatment can also treat conditions like the following:
Non-surgical treatment to fine lines and wrinkles
A solution to lift drooping eyebrows
How Does Botox work?
Botox, one of the most effective anti-aging treatments, is a temporary nerve blocker that works by relaxing and weakening the muscle contractions that happen during facial movements. 
When Botox is administered to patients in their late twenties and early thirties, it can lead to an anti-aging effect by easing dynamic wrinkles and lines and preventing further wrinkle formation. For mature adults, Botox treatment improves dynamic wrinkles and reduces the severity of new wrinkle formation.
What Can You Expect from Botox Treatment at Dr. Nick's White & Healthy Dentistry 
Anyone having dynamic wrinkles is a good candidate to get Botox treatment. However, it is important to inform your dentist about one's medical history as well as the medications you take. Before starting the procedure, Dr. Nicholas M. Kavouklis will carefully examine the patient's natural facial movements to ensure that the treatment addresses their specific concerns.
Cosmetic Benefits of Botox 
Reduces creases throughout the eyes and forehead and wrinkles in between brows.
Noticeable results in three to five days and lasts for 3-6 months.
Quick sessions that need around 15 min
Safe, effective, and tolerable
No downtime
Tailored results
Minimally-invasive
If you want to know more about dental Botox treatments, visit us at Dr. Nick's White & Healthy Dentistry at 4010 W. State Street, Tampa, FL 33609, or call us at (813) 445-7162 and schedule an appointment.